WordPress dashboard Updates
Dashboard → Updates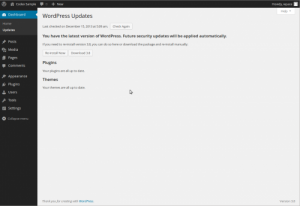 The Dashboard Updates Screen provides the links necessary to install a 'core' WordPress upgrade automatically, or to download the file necessary to complete a manual upgrade.
In addition to the 'core' update process, this Screen provides the ability to upgrade all plugins and themes, active or inactive, that have available updates.
An Upgrade is Available
When visiting the Dashboard Updates Screen, and there is an WordPress upgrade available, you should see messages like this:
Important: before upgrading, please backup your database and files. For help with updates, visit the Updating WordPress Codex page.
An updated version of WordPress is available.
When visiting the Dashboard Updates Screen, if you are running the lastest version of WordPress, you should see messages like this:
You have the latest version of WordPress. Future security updates will be applied automatically.
If you need to re-install version x.x, you can do so here or download the package and re-install manually:
Re-install now
– Click to to reinstall the current version. You should receive the following messages if the upgrade proceeds successfully:
Downloading update from http://wordpress.org/wordpress-x.x.zipUnpacking the core update>Verifying the unpacked filesInstalling the latest versionUpgrading databaseWordPress upgraded successfully.
Once an Update is Completed
After a successful upgrade is achieved, it is a good time to review any new features about the new Version just installed.