WordPress 3.9.1 Update.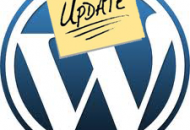 WordPress 3.9.1 was released late last week, resolving 34 bugs. This maintenance release includes several important fixes for multisite, TinyMCE, the customizer, widgets, and the new audio/video playlists. Site administrators who are still doing manual updates are encouraged to bring their sites up to the latest.
WordPress lead developer Andrew Nacin reported that in the seven minutes between starting 3.9.1 updates and writing the release post, WordPress performed approximately 68,000 background updates. After it had been out for 100 minutes, 3.9.1 crossed a million downloads, with 10,00 updates happening per minute.
More than 97% of these updates were automatic, with less than 3% manual. That number is increasing with each release and may very soon be close to 100%. Automatic updates are functioning so well that it's not difficult to imagine a day in the near future when they will be a non-news item, quietly humming in the background of WordPress.
Well done WordPress.