The Best Real Estate WordPress Themes for 2015
Best Responsive Real Estate WordPress Themes with Google maps integration.
Real estate website is a special field in the world of WordPress website development. Real estate / property websites have some special requirements which are not readily available in the multi-purpose themes.
WordPress Marbella has created a collection of best real estate WordPress themes you will ever need to build your own real estate and property rental website. All the WordPress themes have Google Maps integration, advanced search and sorting criteria, responsive design layout and easy to use dashboard.
Wp Marbella have rounded up the best responsive real estate WordPress themes. We hope you will find the list useful for you.
Estatement theme for managing real estate / properties and provides everything you need to sell and rent properties. Estatement was built specifically for selling and renting real estate effectively. Built with a unique custom field system that allows you to add your own data to each property, your way.
The unique custom field system allows you to add property details your own way. It comes equipped with a layer slider, and is translation ready and integrated with Google Maps.

Estatement is a real estate theme focusing on customizability, highly useful theme for creating a wide range of real estate and property listing websites. It gives you the functionality to list properties, rentals, apartments, duplexes etc. so that the potential customers can get connected to you in no time. It incorporates full page and Google map search that makes it easier for the website visitors to easily search the listed properties.
Estatement gives you powerful options for displaying properties and communicating with potential buyers. The full page and map-based search options let visitors search listings in a quick and efficient manner. The 24-hour support is available when you need it most.
---
Realia is Real Estate and Rental Portal template for WordPress. Create your own property portal in easy way. Realia supports dsIDXpress WordPress plugin and new WP Theme customization API, which allows you to make design changes in real time! Also you can choose from 20 colors variations, 10 background patterns, 3 header setups and boxed or full width version. It's more than 500+ combinations!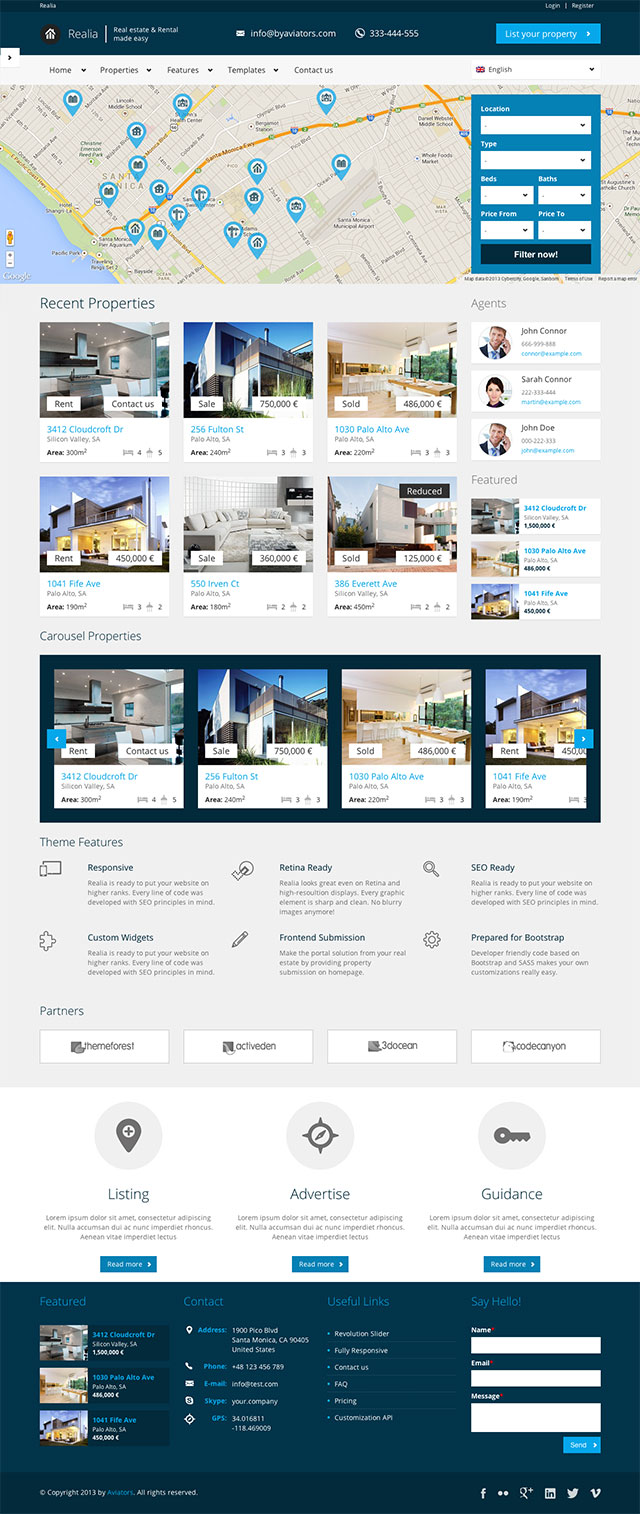 Realia is a streamlined real estate and rental portal template for WordPress. Realia was developed with SEO principles in mind and can help your real estate website rank higher than the competition. The front end submission makes it easy for various users to add listings on the homepage.
The theme's responsiveness and retina-ready features will make all properties look amazing on any screen. Flat, modern and clean design, Reasonable use of UI elements and whitespace.
100% Fully Responsive, There is no limitation in viewing Realia on any popular device. Realia is fully responsive from small smartphone screen to big desktop monitors. Retina Ready, Realia looks great even on Retina and high-resolution displays. Every graphic element is sharp and clean. No blurry images anymore!
---
Bentuestua is a clean and captivating WordPress real estate theme.
You could use this theme to build a website as a single owner trying to rent out your apartment, as a Bed and Breakfast trying to book rooms or even a boutique hotel trying to do the same. It could also be used for campgrounds or as a traffic funnel for a site like AirBnB.

The simple-to-use Real Estate WordPress theme that makes renting properties online easy as a pie. Fully responsive based on Bootstrap 3.0 and retina ready. Packed with rich shortcodes generator, theme options, slider and complete Booking system with availability calendar.
Bentuestu — Responsive Real Estate WordPress Theme is the fastest and easiest solution to Rent Property online. This template is perfect for anyone renting out an apartment or house, for Bed and Breakfast ( Guest House ), Campsites, for serve as corporate website for small hotels or as a traffic funnel for sites like airbnb. The theme has a working booking form with an integrated availability calendar. It includes a bunch of shortcodes to give you total freedom when managing your property.
Each page is customizable and easy to set up through the admin interface. The theme itself is also responsive and retina ready, making your content enjoyable on any device.
---
WP Residence is a Premium Real Estate theme designed for real estate independent agents and agencies, but you can also allow other people to submit their properties for free, for a fee or based on a monthly subscription. It has clean & user friendly design.
WP Residence is a well organized theme designed with independent real estate agents and agencies in mind.
You can create a custom advanced search option with your own custom property fields. You control the global header and select whether to use the property theme slider, Google Maps, Revolution Slider, an image or none of the above. Each page allows you to overwrite the global options as well.
WpResidence features options like: Properties Advanced Search (with custom fields and dynamic search URL), Google Maps with property location markers (managed from admin), Ajax Filters for Properties list, user login & register with white labeled dashboard (no WordPress reference), front end property submit & edit, payment integration with PayPal and Stripe for CC Payments, Visual Composer Page Builder Plugin, dsIDXpress IDX Plugin support, WPML plugin support, custom real estate widgets, colors controls, various Advanced Search and header options, easy theme options, and many more.
---
Freehold is a responsive real estate WordPress theme on Themeforest. The clean and simple real estate theme is perfect for showcasing listings online and providing potential buyers with information they need to make a decision when buying a house. Show off your work with this easy-to-customize and fully featured Real Estate Theme. When purchasing this theme, you will receive a detailed help file along with additional features like Real Estate Property Management and a Fully Responsive Layout.

Freehold is a friendly and well organized WordPress real estate theme.
The unrestrained color schemes will help you to build your website to perfectly suit your existing brand. It's fully responsive and translation and retina ready to ensure that it looks the part on any device in any language.
This theme is integrated for social media – Twitter and Flickr widgets will automatically pull in your Tweets and Flickr images for display on your site. The use of HTML5 will create a fast and future-proof site.
The theme includes a comprehensive search field, so visitors can search according to a number if important home buying factors (such as price, bedrooms, bathrooms, square feet, etc).  You can also add a special staff/agent category where each individual can list their contact and social networking information. The theme also includes a full blog, plenty of shortcodes, and other standard theme features.
---
Real Homes is a premium WordPress theme for real estate websites. It has nice & clean design and it comes loaded with lots of features like Advanced Search, Google Map with property location markers, simple & grid listing, user login & register, front end property submit & edit, payment integration with PayPal, Visual Composer Page Builder Plugin, dsIDXpress IDX Plugin support, WPML plugin support, custom widgets, various templates, easy theme options, easy to use meta-boxes, Google reCAPTCHA support and lot more…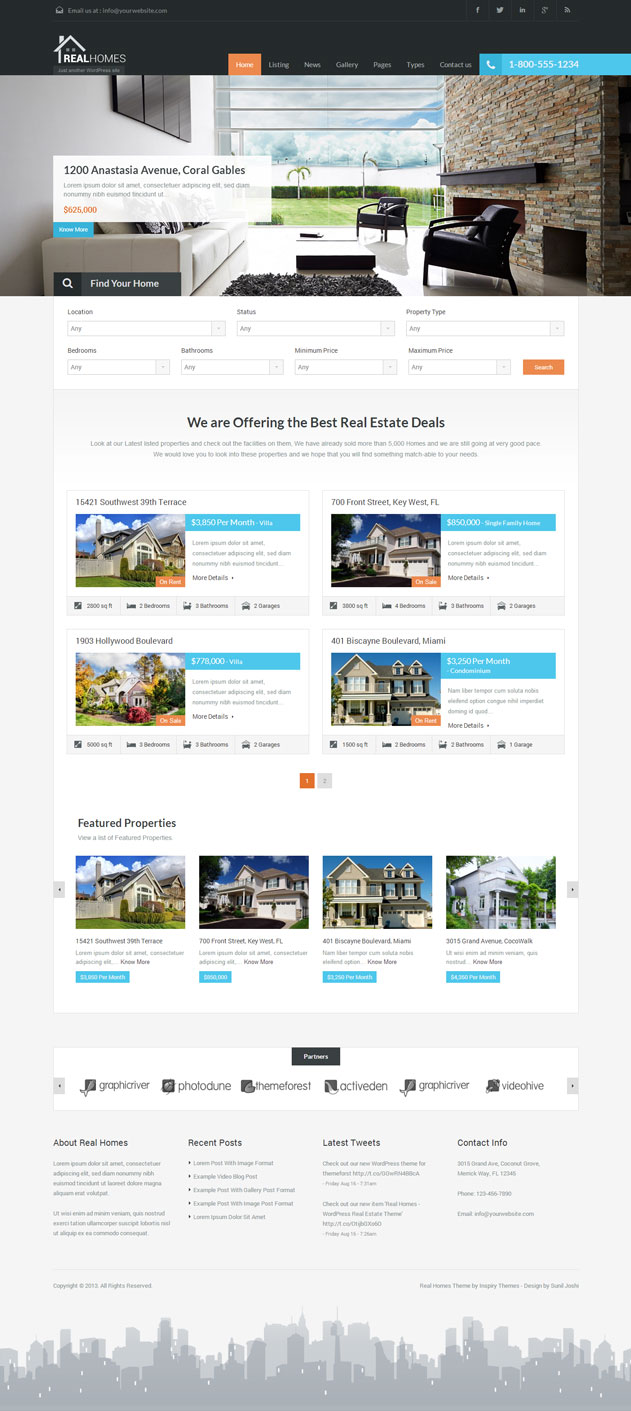 Real Homes – Premium Real Estate WordPress Theme With a crisp clean design, and loaded with cool features such as simple and grid listing types, dsIDXpress IDX Plugin support (for MLS integration), easy theme builder and much more, this theme rocks the Themeforest charts – and with good reason! An industry standard theme – it's fully responsive and SEO ready.
Real Homes has a clean design that is loaded with premium features to give you an attractive yet powerful online presence. There's an advanced search feature, simple and grid listings, as well as numerous custom widgets. It's fully customizable with multiple templates and font styles to choose from.
There is even the ability to accept payments via PayPal. The admin is able to view payments at any time and if enabled, this feature will allow a property to be automatically published after successful payment.
---
These days, the real estate market is booming and realtors & agencies realise that a neat and modern website showcasing properties is more important than ever.  Using an out-of the box solution works perfectly for all real estate purposes. These real estate WordPress themes include features such as: Google integrated map locations, price & area filtering, financing, video, image display and much, much more – instantly making your new website attractive and convertible.
This collection of the best WordPress Real Estate themes transforms any run of the mill website into a full-on real estate website jam-packed with features.
For more information about WordPress Real estate Themes and Property websites, Contact WordPress Marbella Designers. on +34 952 773 692 or email us. hola@marbellawordpress.com