Your local business online, start selling to an international market with a a new ecommerce business website.
Get your business online today with an ecommerce website.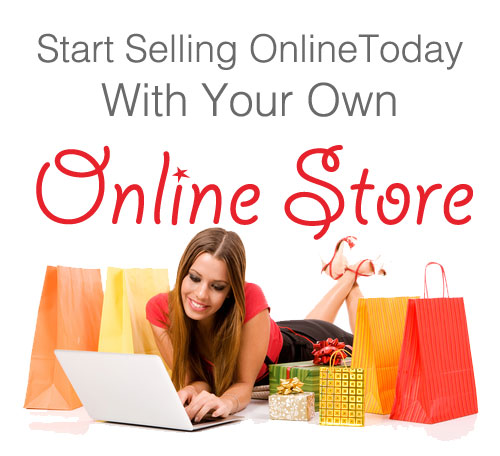 You want to set up your eCommerce store and don't know what to do next, we'll help you guide in every aspect so you can start selling your products worldwide.
What you'll need in-order to setup an eCommerce store.
A domain name and Hosting
A shopping cart software with Shipping & Order Tracking Service
Payment Gateway
Online marketing / promotion of your products
Responsive website design for all devices
Domain Name is the address for your online store = www.myonlineshop.com. We can help you with registering your domain name in your personal or business name. We can also help with hosting your website, A web hosting service is a type of Internet hosting service that allows individuals and organisations to make their website accessible via the World Wide Web. The most basic is web page and small-scale file hosting, where files can be uploaded via File Transfer Protocol (FTP) or a Web interface.
There are many shopping cart software's available, to start your business online you need to choose the right option that allows you to start small and increase in size as your business grows. online solutions for shopping are known as an eCommerce solution. The best choice of  eCommerce software is developed and maintained by shopping cart providers, normally open-source option is best and has following advantages:
No worry about upgrading the software is constantly upgraded,
No upfront cost, just installation and integration fee
No developer needed to maintain the store.
Quick & easy setup
Has all features that you need to sell your products online
We recommend Woocommerce software. WooCommerce is FREE and most reliable and most used open-source eCommerce software and has gained significant popularity over the past few years. Whilst the basic WooCommerce package is free, and really can be used straight "out of the box", there are additional extensions which can be bought to add extra functionality. It's likely that in many cases, the basic shipping options and few payment options aren't enough and at least some of the extensions would make a worthwhile purchase.
Woocommerce is a complete online shopping system that has its own integrated shipping and order system, you input the amounts for your products, the tax amounts and your shop is ready to start selling. It also has a tracking service and client management section to control all aspects of your online store.
Payment Gateway
Woocommerce comes with basic PayPal options installed, this helps many online ecommerce start ups get to grips with taking online payments. There are many other Payment gateway solutions that collect the payments from your customers online and deposit it into your Paypal account and then transferred to your bank account securely. PayPal is free to set up, and has very good options for start up businesses. If your business is already set up then your bank will and can offer a merchant payment system for your online sales.
You'll need to do online marketing and promotions for all your pages and products or hire a digital marketing agency, so your potential customer can find your products online. You need to make sure that when customers are searching online in google, msn, yandex or bing for products, your website have to show-up.
Perhaps the most important — and inexpensive — strategy is to rank high for your preferred keywords on the main search engines in "organic" or "natural" searches. Search engines send robot "spiders" to index the content of your webpage, Robots read the text and place your site depending on the relative collection of data in page titles, descriptions and page content. The idea here is not to trick the search engines, put exactly the right text on each section of your website explaining exactly what your have to sell. This approach is called "search engine optimization," abbreviated as SEO.
You could also consider Social Media Marketing, create a Google business page, Google plus page, Facebook page, Twitter account and Pinterest account for your business to attract your potential customers, put the links to your social media pages on your website, you can also use social media share buttons to share the information and your products on all social media pages. And then just keep posting useful information around your products that might interest and attract your potential customers.
You should also think about putting your store on your Facebook page, so you can sell your products from Facebook itself.
Responsive web design is a technique for building websites that work on mobile devices, tablets, and desktop screens. Responsive design is a forward looking approach that supports selling products to shoppers on any device type or size.
Websites were typically designed specifically for laptop and desktop screen resolutions. This worked fine until the advent of web capable smart phones and tablets. Then came along Responsive website design, responsive web design solves the problem of making the same code work across multiple screen resolutions. Many modern websites are responsive, and in fact, this website www.wp-marbella.com is one of them. If you resize your browser window, you'll see the screen elements resize themselves.