Best 5 WordPress Themes November 2014
At ThemeForest you can buy and sell HTML templates as well as themes for most popular CMS product WordPress. Items are priced on the complexity, quality and use of the file; the total price also includes a Buyer Fee. The site is home to a bustling community of web designers and developers and is the biggest marketplace of its kind. As one of the most popular websites for finding WordPress themes is definitely ThemeForest. It's easy to see why, too, with thousands of themes available for so many different industries and purposes. Just as with other WordPress theme sites, you do run the risk of purchasing a poorly designed theme, even with competition. Thankfully with reviews, comments, and feedback, you can usually tell if a theme is the right one for your project.
If you are interested in buying a new theme for your website this is one of the best place to start your search!
At Themeforest the top selling WordPress Themes & Templates. This list updates every week with the top selling and best WordPress Themes & Templates.
Avada is so clean, super flexible and has a fully responsive design built with HTML5 & CSS3, a lot of thought and care went into this theme making it a pleasure to use.  The clean design can be used for any type of website; business, corporate, portfolio, blog, products, etc.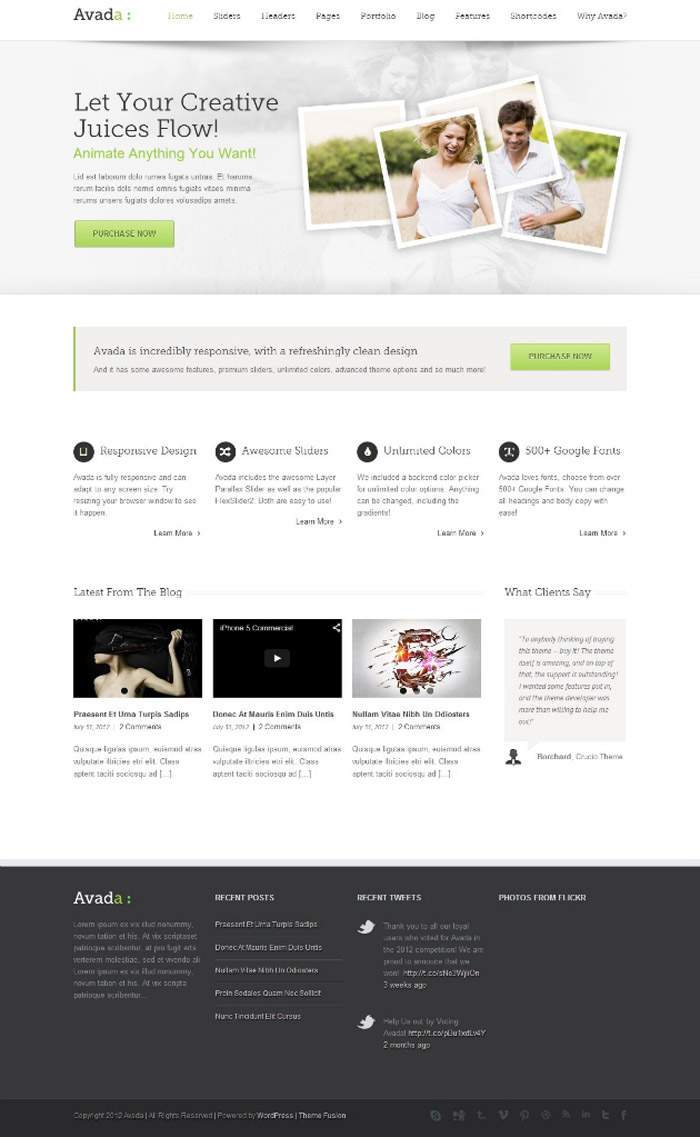 Avada's powerful theme and meta options along with its unique structure lets you create any design style with just one theme. These simple yet powerful options allow you to create any type of website. No two versions of Avada will ever look the same. Avada is loaded with useful features, each one with its own meaningful purpose. Avada is 100% responsive, each and every element including the awesome premium sliders are fully responsive. And the responsive mode can easily be turned on or off in the theme options panel! Avada's meta options make it easy to customize your content for each page, blog, portfolio or FAQ post. Apply sliders, backgrounds, colors, icons, sidebars to name a few. Avada includes integration for the most popular shop plugin, WooCommerce. Custom design and unique shop shortcodes will allow your products to shine.
Those Are Just A Few Main Features, There Are Plenty More!
---
Achieve virtually any look and layout from within the one and only X WordPress Theme. Stacks allow you to choose from multiple, completely unique designs with just the click of a mouse, and there are currently four Stacks to choose from (with more in development). Instead of creating just another theme, X theme first sought out the top internet marketing minds to share their expertise on building the ultimate theme. We then took their advice and built it right into X theme.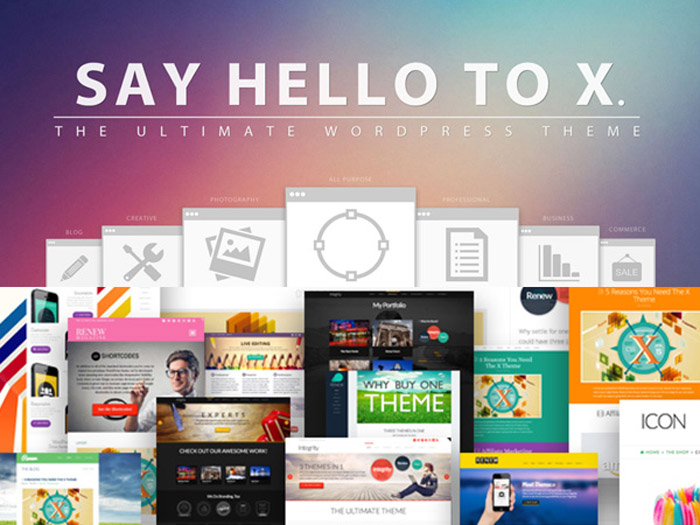 Endlessly Customizable Imagine being able to manage all aspects of your site using a live previewer so you can see exactly how that logo, font, or layout will look before you publish. Now you can, using core WordPress functionality (mixed with a little development magic from your friends at Themeco). Get ready for the most fun customization experience you've ever had! Take your website as far as your imagination will allow. the developers for X theme created several custom page layouts including: About, Pricing, Contact, and more. You have truly limitless potential in creating the pages that you need. Even better, they are always adding new designs for their customers.
---
Enfold is a powerful Theme that comes with an easy drag and drop admin interface. Set up new sites in no time! The Template Builder allows you to build any number of cool Portfolio layouts. Once you have created one or multiple layouts you like, simply save them as template and reuse them as often as you need. Enfold is a super flexible Theme with a modern backend that makes it incredible easy to build unique layouts by simply dragging and dropping your content into place.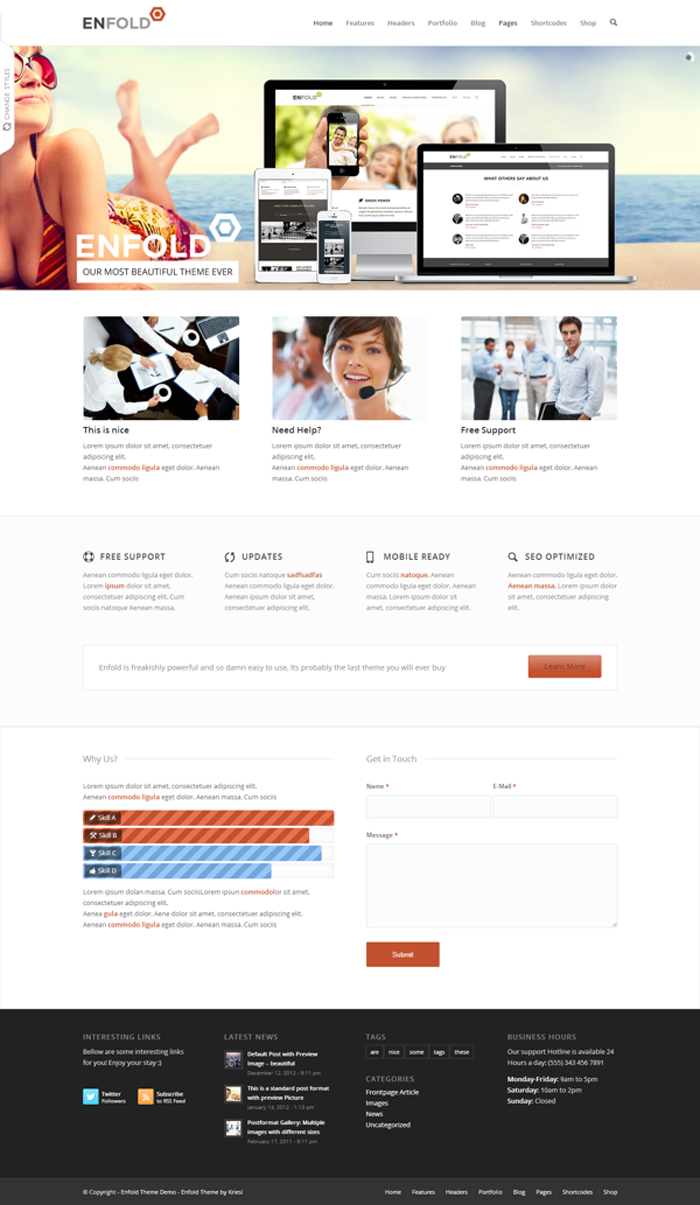 features thet will blow you away, Layout Builder with dozens of easy to use elements. Content Importer, to easily setup your site. With one click you get a site very similar to the theme demo. Predefined Color schemes that can easily be edited right out of your backend. Lots of beautiful interactive elements like slideshows, galleries, tabs, toggles that help you showcase your best work. Works beautiful on modern high resolution displays: Smarthpones, iPads, Retina MacBooks, etc. The Theme comes with a template builder that allows you to build any number of stunning layouts and apply them to your entries. All you need to do is to drag and drop the elements into place until you have a page you like. If you want to re-use a template you can simply save it and apply it to other pages later on.
---
This WordPress theme is totally amazing! Bridge already includes several option and plugins such as WooCommerce, Visual Composer, a premium layer slider and much more. The possibilities are endless. It's a great choice for creative people and companies. Bridge is a multi-purpose WordPress theme, which leaves nothing to be desired. This retina ready theme is built on a powerful and flexible framework. Bridge includes fully customizable headers. You can create a unique header for each page. Almost everything is customizable, choose between dark or light color scheme, different heights, images, text or numerous header effects and options.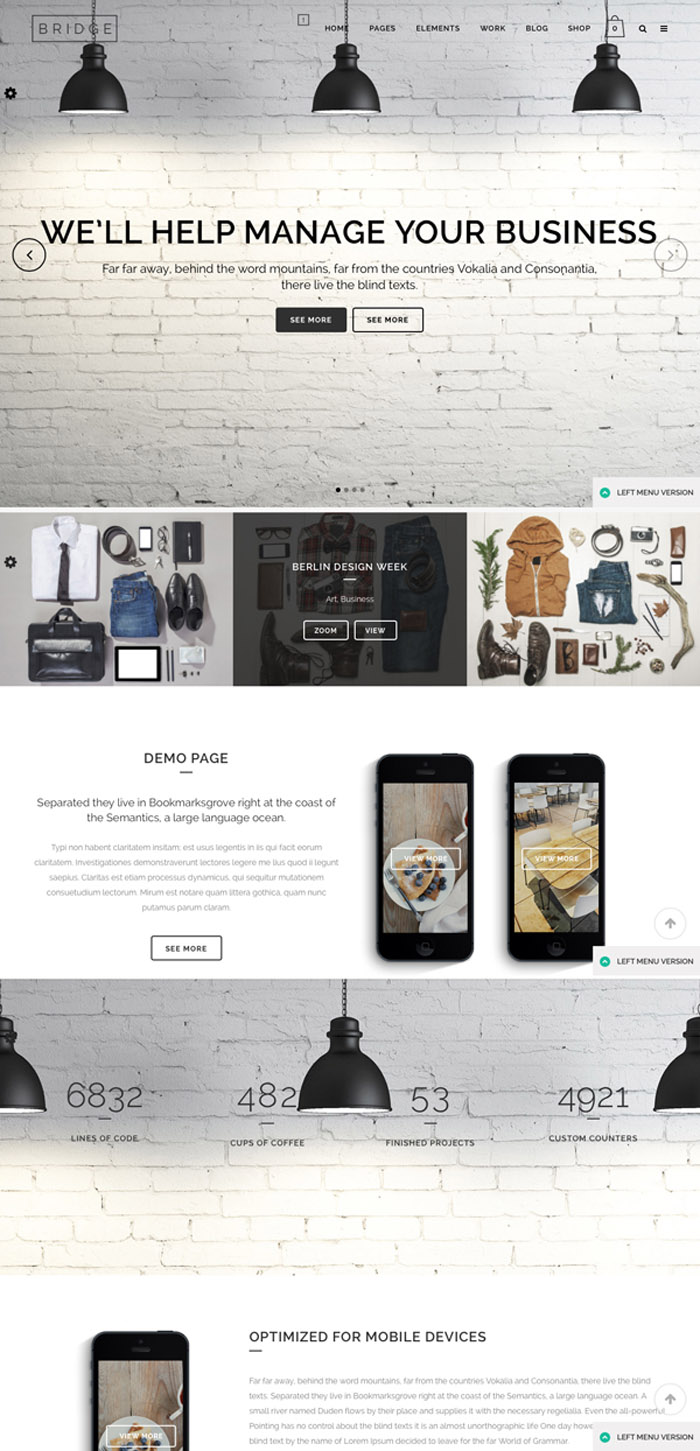 The Bridge WordPress theme includes 7 portfolio "single layouts" and 4 different portfolio "list layouts". Thanks to the integrated WooCommerce plugin, you can also use the Bridge theme as professional shop solution for selling your products online. This WordPress theme comes with well customizable drop-down menus and an optional side menu. It lets you add any shortcode, graphic, or content you want to your menus. Bridge comes with WPML, which makes it so easy to build multilingual pages. The fully integrated Visual Composer helps you to create any page layout you want just using drag and drop. Furthermore, this multi-purpose WordPress theme includes the font awesome vector icon set and more than 600 Google web fonts offer many typographic possibilities.
---
Take full control of the power Salient has to offer with our new exciting page builder. You'll be grinning in delight when you see just how easy it is to create stunning layouts with little effort. The days of being overwhelmed by long documents without any visual guidance are over – salient theme has an entire video tutorial series available for you that's narrated through the duration. The looks & functionality you've been dying for are finally easily accessible. With this theme they know you'll enjoy the freedom to showcase your content in the way that it deserves.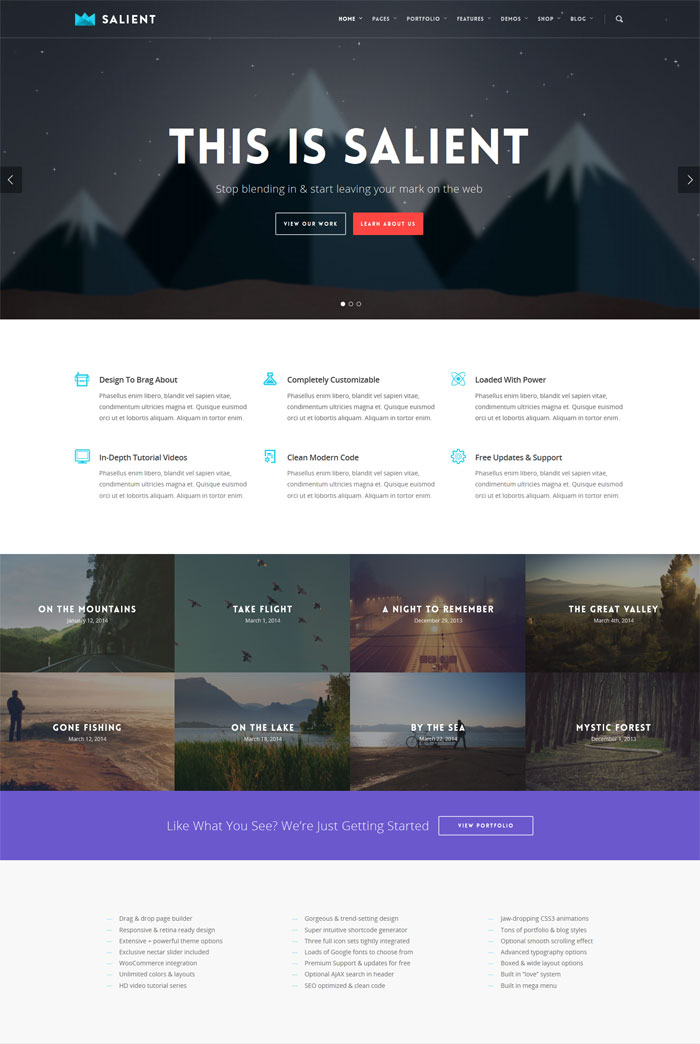 Salient is an ultra responsive, beautiful WordPress theme that is perfect for freelancers, photographers, designers and creative agencies alike. Salient WordPress Theme from ThemeForest is a parallax business WordPress theme made of multiple homepage sections. The Salient Theme is provided with Mega menu style feature which can display multiple link columns and featured categories. The advanced menu options has much more advantage compare to traditional menu design, first of all you can display big list of categories and using featured images you can improve visibility of menu drop-down. ThemeForest Salient WordPress Theme has truly flexible page builder where you will get ready board to drag and drop required elements. Adding sections and homepage elements like slider, service columns, testimonials, portfolio section will display those elements in featured mode.
---
With WordPress being as popular as it is, you have a pretty large selection of free themes to choose from. In fact, the WordPress Theme Directory alone has over 2,600 free theme to choose from. With so many free themes to choose from, you can download and try out as many themes as you like until you find the perfect one for you.
When you are using paid themes, it's the responsibility of the framework company to release an updated and compatible version of Theme. Where as, free theme creators use their theme as side project, and you need to wait for months before you see an upgrade. For quick updated themes, I would suggest to stick with any of the good Wp theme company. Also, all the paid theme authors offer free support as it comes with membership, where as in free themes, you can't expect a free support.